Connect with your social network account
Posts: 39
There are many scammers who like to trick people who are interested in working on a cruise ship. There are also legit agencies who try to make extra profit by charging the candidates extra agency fees or commissions. This is illegal since all cruise lines pay the recruiting agencies for their services.
Here is the official policy of Royal Caribbean Cruises Ltd.
Applicants and New Hires:
"Royal Caribbean Cruises Ltd, pays their hiring partners tor their services and does not allow the collection of administrative fees, agency fees or processing fees There are costs involved with joining the ship (passport, seamen-a books, national identification documents, medicals, airplane tickets, certifications and license as required tor the position) but there is no fee associated with obtaining an interview, position or ship assignment within the company. If you successfully complete all of the requirements and are able to join your assigned ship, the cost of Visa(s) will be reimbursed once you join the ship, services charges or associated fees for obtaining the Visa are not eligible for reimbursement. Please retain the detailed original receipt to claim reimbursement to the Financial Controller on the ship."
if you suspect or know you are being asked to pay or otter a price for or on RCL's behalf, you must report it to RCL
Global Compliance and Ethics at
ethics@rccl.corn
or, if you wish to report anonymously you may use RCL's AWARE Hotline at:
Email
rclaware@tnwinc.corn
Phone 1-888-81-AWARE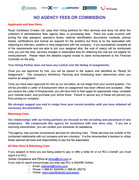 Ship Happens and then you go back home on vacation.
---